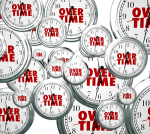 Barring some unexpected development or a last-minute injunction in one of the lawsuits challenging the new Department of Labor overtime rules, the new salary thresholds for white collar exemptions will go into effect on December 1, 2016.
That, of course, is now less than two weeks away.
We have written at length about those new rules, as well as the critical decisions that employers will need to make to comply with them:
Whether to increase employees' salaries to meet the new thresholds;
Whether to reclassify employees as non-exempt and begin to pay them hourly rates, plus overtime;
What hourly rates to set for reclassified employees so as not to pay them more than employers intend – or less; and
How these decisions will impact other employees and the employers' salary structures.
Hopefully, most employers have already addressed these issues internally and will be prepared to comply with the new rules on or before December 1, 2016.
But for those who have not, the clock is ticking, and waiting to address these issues until after December 1, 2016 could lead to potential claims that might be exceedingly difficult to defend.