In Holaway v. Stratasys, Inc., the plaintiff was employed as a field service engineer and classified as exempt from the FLSA's overtime requirements.  Based on that classification, the plaintiff's employer did not keep records of his hours worked.
After being discharged, the plaintiff filed lawsuit in the U.S. District Court for the District of Minnesota claiming he was non-exempt, seeking overtime wages and alleging that he worked sixty hours per week every week of his employment.  The District Court concluded that the plaintiff failed to produce sufficient evidence to show he worked more than forty hours per week, and granted the employer's motion for summary judgment.
Standard of Proof in the Absence of Timekeeping Records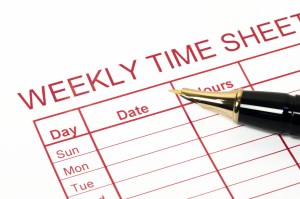 On appeal, the Eight Circuit Court of Appeals noted that an employee who sues for unpaid overtime has the burden of proving that the employee performed work for which he or she was not properly compensated.  However, if an employer has failed to keep records, an employee need not prove "the precise extent of uncompensated work," but instead may establish his or her entitlement to compensation "on the most accurate basis possible."
Specifically, the Eight Circuit relied on the U.S. Supreme Court's longstanding decision in Anderson v. Mt. Clemens Pottery Co.  In Anderson, the Supreme Court stated that once the employee has shown work hours for which the employee was not compensated, and "sufficient evidence to show the amount and extent of that work as a matter of just and reasonable inference," the employer must provide evidence to rebut that interference.
Sweeping Assertions about Hours "Typically Worked" are Insufficient
In Holoway, the Eighth Circuit stated that the plaintiff's testimony regarding his hours worked was often contradictory and, at various times, estimated his work hours from forty-five to seventy hours per week.
Furthermore, the plaintiff did not attempt to establish his entitlement to compensation "on the most accurate basis possible."  In fact, he failed to check his hours worked against any business records kept by his employer, and failed to take into account any paid holidays, any paid vacation or any days he was on duty at home without receiving a service call.
Thus, the plaintiff failed to put forth any evidence regarding specific weeks where he worked beyond forty hours, and failed to provide a meaningful explanation of how he arrived at his final estimate of sixty hours per week for every week of his employment.Most importantly, the plaintiff offered no specific evidence regarding the amount and extent of his overtime work.  Rather, he offered only bare assertions that he "typically worked" five to seven hours per week before the official start of his workday, "typically worked" eleven to fifteen hours per week after his official quitting time and "typically worked" two to three hours each weekend.
The Eighth Circuit concluded that the plaintiff therefore failed to come forward with sufficient evidence to allow a fact-finder to determine the amount of any overtime hours "as a matter of just and reasonable inference."  Thus, summary judgment in favor of the employer was affirmed.
The Eight Circuit's decision offers some support for the proposition that employers who fail to keep records of hours worked are not always bound by an employee's assertions regarding hours worked.  However, the decision also suggests that employers will have difficulty defending against reasonably specific allegations that make a minimal effort to address the evidence that is available.
Accordingly, employers should continue to make every effort to keep accurate wage and hour records for all non-exempt personnel.