Most of us don't think of window washers on high rise buildings as employees who qualify for an exemption from overtime pay.  But under an unusual set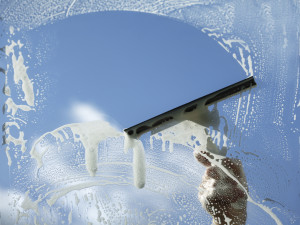 of facts, this is precisely what the Seventh Circuit Court of Appeals held in Alvarado v. Corporate Cleaning Services, Inc., 782 F.3d 365 (7th Cir. 2015).
Corporate Cleaning Services ("CCS") provided window washing services to high rise buildings.  When it received an order for a window washing job, it calculated a number of points, based on the job's complexity and the number of hours estimated to complete it, to determine the price to charge the customer.  It also used that number of points to determine employees' pay.  Generally, each window washer received the same number of points, and those points were multiplied by a rate specified in the collective bargaining agreement with the union to determine the amount each employee was paid for the job.  Employees worked primarily in the warmer months and were paid $40,000 to $60,000 per year.
Although the company called this compensation system a "piece rate" system, the Court found the company's label was not determinative, and the employees actually were paid on a commission basis.  Under 29 U.S.C. §207(i), certain commission paid employees need not be paid time and one half for hours worked over 40 in a work week if they meet three requirements: (1) their regular pay is more than one and one half times the federal minimum wage; (2) more than half their compensation for a representative period of time (not less than one month) represents commission on goods or services; and (3) they are employed by a retail or service establishment.
There appeared to be no dispute that the plaintiffs received more than one and one half times the federal minimum wage, and the Court found that the plaintiffs were paid on a commission basis because they were paid only if there was a sale of window washing services to the public.  The Court had no difficulty in concluding that CCS was a "retail or service establishment"  because it sold its window washing services to building owners and managers who were the ultimate customers—they did not resell the window cleaning services.
Because the window washers met all three requirements for the overtime pay exemption for commissioned paid employees, the Court concluded they were not entitled to overtime pay.
The Court made some interesting observations about commission paid employees.
Work paid on a commission basis involves irregular hours of work, according to the Court.  An employee paid by the sale is not a commission paid worker if his sales are made at a uniform rate, such as one sale each hour.  Because the ratio of his hours of work to his pay is constant, that employee is effectively an hourly paid employee.
The CCS window washers necessarily worked irregular hours because they could not work in high winds, rain, snow, sleet and freezing temperatures.  While many of the workers took long vacations during the winter, they often worked more than eight hours a day during the other three seasons.  Because, among other factors supporting the commission exemption, the window washers could not count on working 40 hours per week for the entire year, the Court reasoned that the employer was exempt from the requirement of paying time and a half for overtime hours.