[caption id="attachment_2607" align="alignright" width="300"]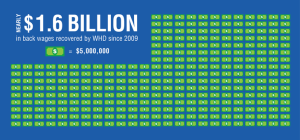 Infographic by DOL Wage and Hour Division.[/caption]
The Department of Labor's Wage and Hour Division, which is charged with enforcing federal wage laws, has just issued its latest newsletter.
Included in the newsletter is the Division's presentation of a variety of statistics relating to its efforts.
Among the statistics reported by the Division:
It has assisted more than 1.7 million workers since 2009.
It has recovered approximately $1.6 billion for workers since 2009.
It recovered more than $246 million in back wages in 2015 alone for more than 240,000 workers.
In 2015, the Division found violations in 79% of its investigations.
What do these statistics mean for employers?
They mean that the Wage and Hour Division was not just talking when it said it would aggressively investigate and pursue wage-hour issues, including the misclassification of workers as independent contractors and the failure to pay employees for work performed off-the-clock.
Those statistics alone should serve as a reminder to employers to review their policies and practices to try to ensure compliance with wage-hour laws.  No employer wants to be part of these statistics next year.