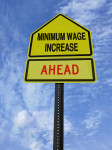 As anticipated in our posting on June 9, 2016, on June 21, 2016, the Washington, DC, Council unanimously passed on second reading the Fair Shot Minimum Wage Amendment Act of 2016, without substantive amendment. As discussed in our prior posting, this bill increases the District of Columbia minimum wage – already set to increase to $11.50 on July 1, 2016 – by additional annual increments until it reaches $15.00 on July 1, 2020. It also increases the tipped minimum wage in annual increments starting July 1, 2017 from the existing $2.77 to $5.00 on July 1, 2020. Both rates will increase in subsequent years based on increases in the cost of living.
Mayor Bowser is expected to sign the bill soon. The bill will then be subject to a Congressional review period that, due to scheduled recesses, may not be complete until the end of 2016. Consequently, the Council also passed identical emergency legislation that will become effective upon the mayor's approval for 90 days, and likely will then be renewed until the review period has passed. So, as a practical matter the law will take effect almost immediately.
Notably, similar measures raising the minimum wage to $20.00 in by July 1, 2020, in both suburban Montgomery County  and the City of Baltimore, are pending and at present appear likely to pass later this year.